6' / 183cm
Low stock: 1 left
Regular price
$449.00 CAD
Regular price
Sale price
$449.00 CAD
Unit price
per
Sale
Sold out
Bask in the warm, celebrity glow of the notorious F.L.F. - the Fiddle Leaf Fig. A favourite of interior designers, it's long-held the mantle as the darling of the decor world and has been consistently popping up on Instagram feeds and magazine covers alike for what feels like forever.
Like most celebrities, Figgy has a reputation for being a bit dramatic if it doesn't get its way, but we think this is a bit of an unfair assessment. As long as Figgy gets consistent light and warmth it's actually quite low maintenance, and you'll be rewarded with all the beauty and glamour of its large, glossy, bright green leaves that can bring life, colour, and drama to your living space as few other indoor plants can.
Also known as Ficus Lyrata, Fiddle Fig, FLF
Care
Light Requires bright, indirect light to thrive and grow. Less than 5 feet away from an East, West, or South facing window, or under a powerful grow light would be ideal. Not suitable for low-light spaces.
Water Check soil moisture every 5-7 days and water thoroughly when the top 50-75% of the soil is dry.
Includes 
· A healthy plant from a local BC grower.
· Potted in premium soil in a plastic grow pot for easy watering.
· Decorative pots sold separately.
Dimensions
Plant height Approx. 6' / 180cm
Nursery pot 14"H x 14"W
*Fits in our XXL pots or a standard 15" pot.
View full details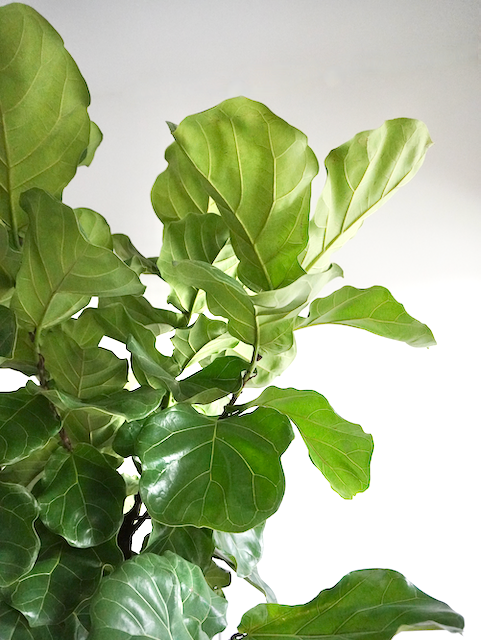 Why choose Frondly?
See the plants we have.

We regularly take photos of each new batch of plants at our in-house studio to ensure that the plant you receive is nearly identical to the one you see online.

Living room ready.

Before delivery, we clean and prune your plants so they are ready to be displayed in your home. Cleaner leaves also absorb more sunlight, key for optimal plant health.

Best growers = best plants.

Healthy, strong plants look the best and are the easiest to care for. We only work with the top local greenhouses in BC to ensure that all of our plants are healthy, beautiful, and pest-free.