Emerald the Jade Plant, Medium
Regular price
Sale price
$25.00 CAD
Unit price
per
Long-Lasting | Low Maintenance | Easy to Propagate
The jade plant is one of the most popular succulents, loved for its easy-care regimen and plump, green, oval-shaped leaves. It's such a hardy plant that it has been known to be passed down from generation to generation.

It grows slowly - just a few inches a year - but as it can live for so long even a small plant can grow to be several feet in height or more.
Also known as Crassula Ovata, Jade Succulent, Lucky Plant, Money Plant.
Care
Difficulty (Almost) Unkillable

Water Allow soil to dry completely between waterings. Water the surface of the soil thoroughly until water begins to flow through the drainage holes. Let your plant drain in a bath or a sink for 10-15 minutes before returning it to its usual place.
Light 
Low No
Medium OK
Bright, indirect Yes
Direct Sun Yes
Dimensions
Nursery pot 5.5"H x 6"W
Plant height* 10 to 12"
*Measurements taken from the base of the pot to the top of the plant.
Includes
· A healthy plant from a local BC nursery.
· Potted in premium soil in a plastic grow pot for easy watering.
· Decorative pots sold separately. 
· Pictured with Tobago Black Ceramic Pot, Medium.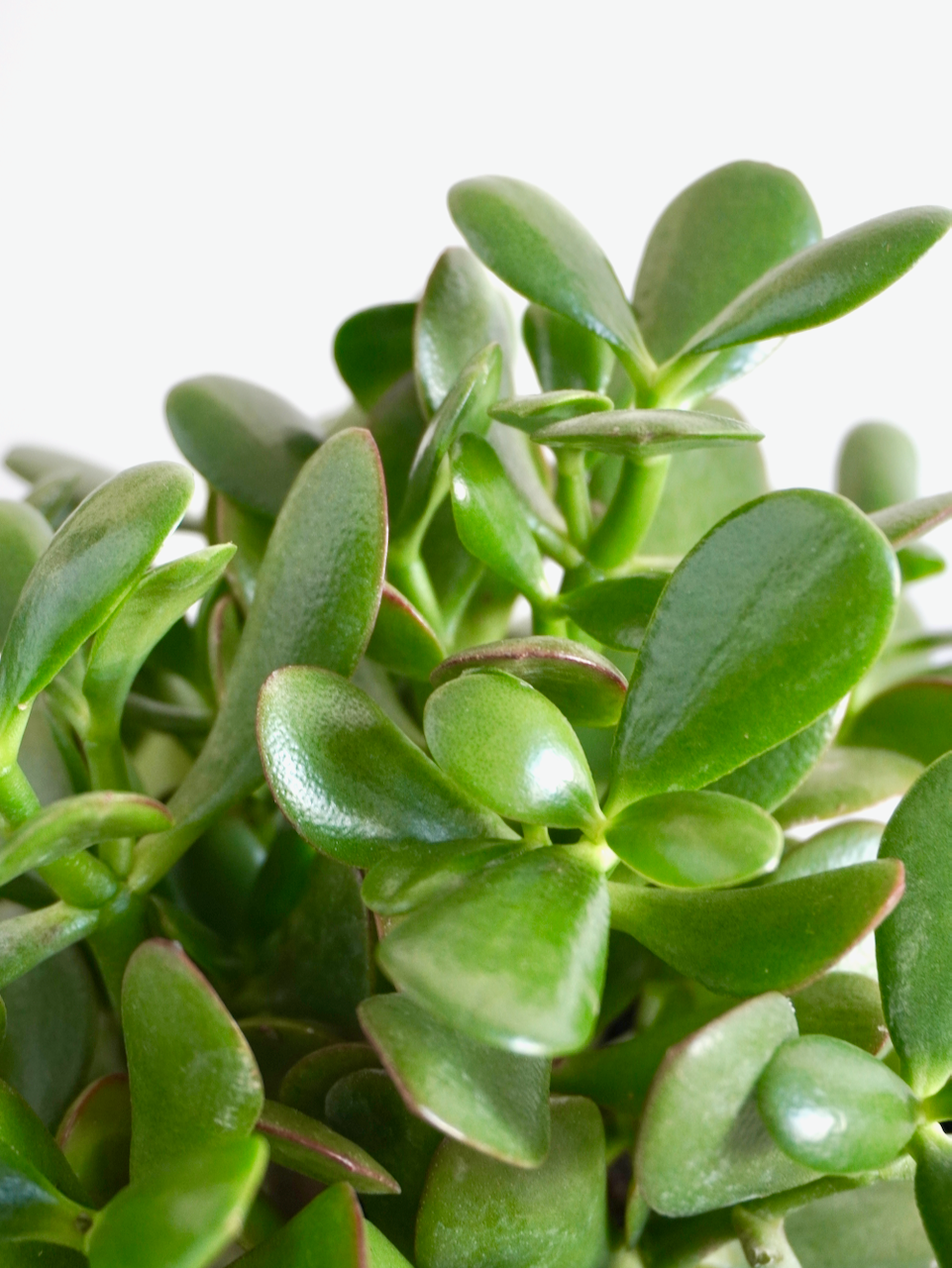 Why choose Frondly?
See the plant you're getting.

We take new photos of each batch of plants at our in-house studio to ensure that the plant you receive is almost identical to the one you see online.

Living room ready.

Before delivery, we clean and prune your plants so they are ready to be displayed in your home. Cleaner leaves also absorb more sunlight, key for optimal plant health.

Best growers = best plants.

Healthy, strong plants look the best and are the easiest to care for. We only work with the top local greenhouses in BC to ensure that all of our plants are healthy, beautiful, and pest-free.