Jab-Jab the Marble Queen Pothos, Large
Regular price
Sale price
$39.00 CAD
Unit price
per
Fast Growing 
|
Forgiving
Jab-Jab is one of the most popular plants in the world and it's no wonder why - it'll adapt to almost all light conditions, is laid back about watering and very easy to grow. Jab-Jab looks great on a shelf or mantel and can even be trained to grow up a wall or a trellis.

We recommend pairing it with the White Tobago Pot and the Bendable Coir Pole.

Also know as Devil's Ivy, Varigated Pothos, Epipremnum aureum 'Marble Queen'
Native to Southeast Asia, French Polynesia and Australia.

Care

Difficulty Unkillable: very forgiving and tolerant of neglect.
Water Check soil moisture every 7-10 days by sticking your finger 1-2 inches into the soil. Water evenly when the top 1-2" of soil is dry and allow to drain for 15-20 minutes. Very forgiving if you forget to water for a few weeks.
Light All light conditions. It'll grow fastest in bright, indirect light.
Includes
· A healthy plant from a local nursery.
· Potted in premium soil in a plastic grow pot for easy watering.
· Decorative pots sold separately.
Dimensions
Nursery pot 8" wide
Plant height 24-28" trailing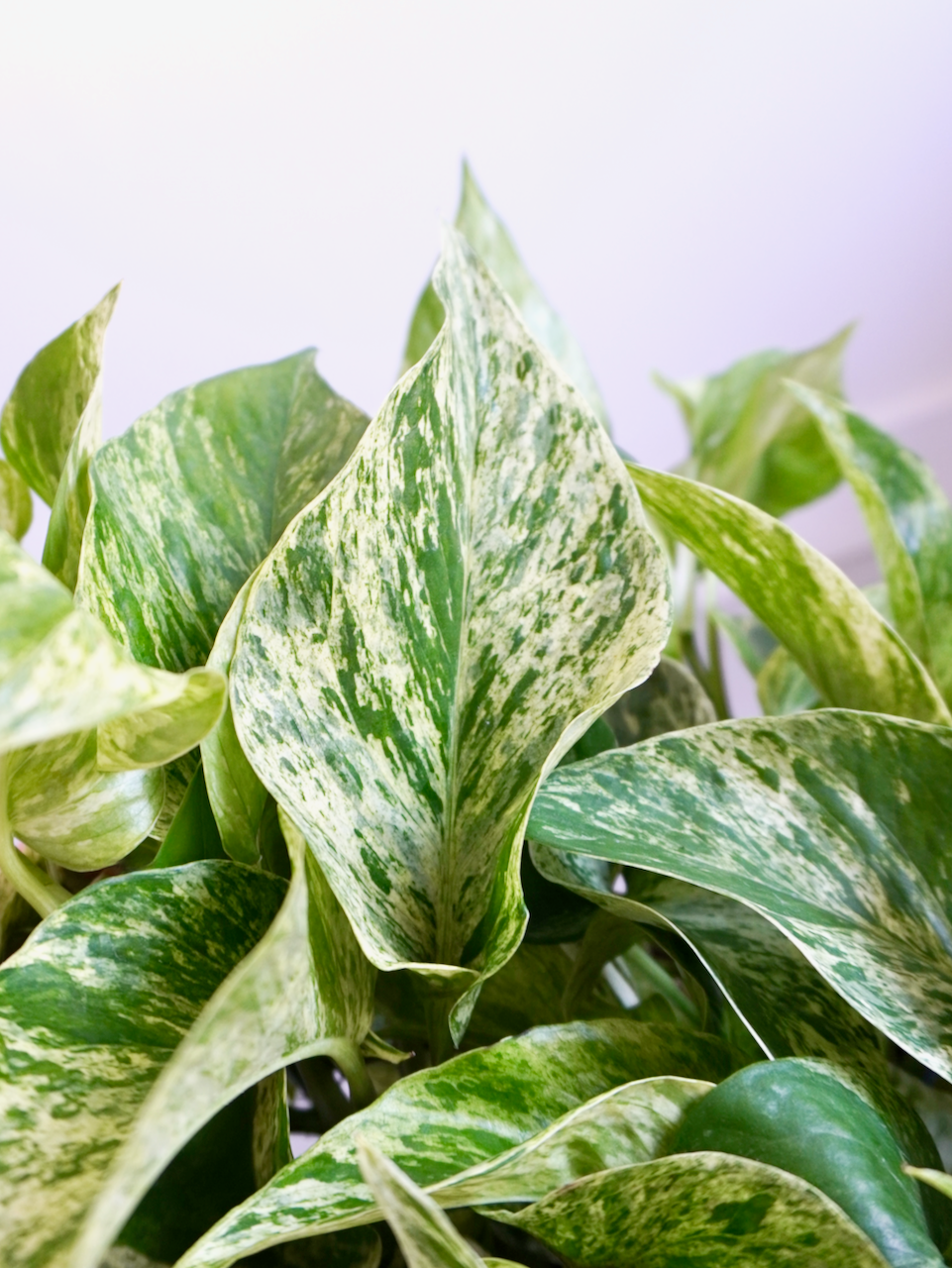 Why choose Frondly?
See the plant you're getting.

We take new photos of each batch of plants at our in-house studio to ensure that the plant you receive is almost identical to the one you see online.

Living room ready.

Before delivery, we clean and prune your plants so they are ready to be displayed in your home. Cleaner leaves also absorb more sunlight, key for optimal plant health.

Best growers = best plants.

Healthy, strong plants look the best and are the easiest to care for. We only work with the top local greenhouses in BC to ensure that all of our plants are healthy, beautiful, and pest-free.